ekklesiasys
~ Your smart church system ~
~ touching lives ~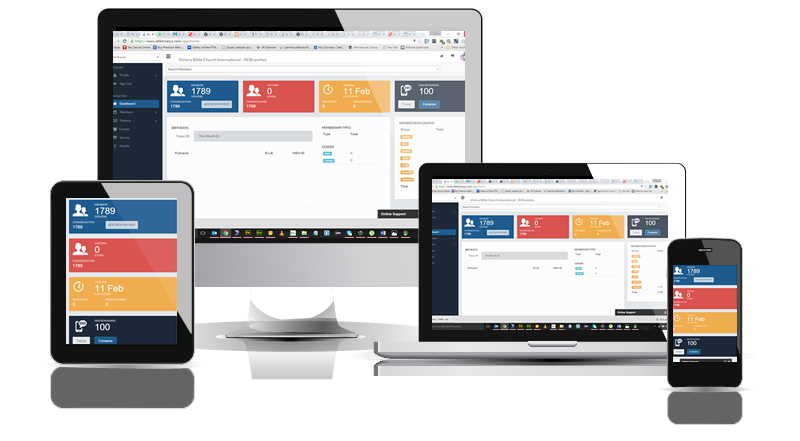 This church management software is a purpose driven software because its original team of advisory consultants were associated with major churches with a purpose-driven mission; (reaching the lost souls, building the won souls) such as Action Chapel International (ACI), Father's House Community Chapel (FHCC), Covenant Family Community Chapel (CFCC) and International Central Gospel Church (ICGC) who now use the software.
Since the software is easily accessible on the internet via www.ekklesiasys.com, country borders have quickly dissolved. In addition our customer service lines are available. Regardless of where you are located, feel confident in our software and our support. Rest assured we are here to help you and we'd love to partner with you in your ministries, with this software well designed and suitable for any Christian denomination with uncompromised features.
The software can be used by Groups, Ministries, and Departments of a church or by a Church. A branch of a church can use this app or a main church with its branches, depending on their structure of operations. For example, Music Group in a church (eg. New Edition – ICGC Christ Temple) or Counseling Department can sign up for an account
The app is available on the following platforms:
Launch Web Application

Download Android App Now

IOS Coming Soon !!
Our Features
MEMBER MANAGEMENT
Ekklesiasys as a software helps you keep track of your congregation members in terms of their personal information, families, work and Friends. Also connect with other church members within Departments, Ministries and Groups. This feature keeps full bio data of every member. You can further pull up detailed reports on members with at most 3 clicks of the mouse.
TIMELINE
This feature manages everything that has to do with dates and times, so it handles Birthdays, Wedding Anniversaries, News & Events, Church Programmes & meetings, you name it. You get to set auto SMS or EMAIL reminders to parties that are connected to those dates & times. This helps keep the relationships going between the church and its cherished members. Being abreast with your special timeline event is of great concern and with Ekklesiasys, you do just that to make your congregation members feel cared for and thought of. Now you have no excuse to forget that birthday or wedding anniversary; you have it at your fingertips.
BULK SMS
Short messaging service (SMS) is the new age most powerful and useful means of communication with your congregation. You can send as many SMS you want at a go and you dont need to export all your data from the application. You can set auto messages that would be triggered on a particular date & time. We have the best rates you shake. The more you buy, the more you get. We have bonus SMS give away, check out the pricing.
DATA SECURITY
Your data on ekklesiasys is secured 24/7 with 256-Bit encryption SSL certification. Also With high level security features such as login systems, permissions and sessions. In addition most activities on the system are logged. We guarantee your data is always secured and we do not compromise on data integrity; bottom line is you are backed-up
LIVE ONLINE SUPPORT
Ekklesiasys live online support is one that takes the burden of our support team sharing your office space with you, rather we are able to log into the fruitful system remotely and help fix any issues you may have, give us a few minutes and you are back online.
FINANCE MANAGMENT
One of the main purposes of church management system is to help a church honor the stewardship of its people, and the finance tab in the system helps you do just that and even a lot more. Powerful, yet easy-to-use, Ekklesiasys incorporates all features a fruitful church would need to implement in terms of financials. With just a maximum of two clicks, pull out financial statements (Tithe statement, Contributions statement etc.) of a congregational member and either email it instantly or print it out; No hassle or even create an online access (Explained further below) for each user so they can do all that themselves anywhere any time, so you can focus on other things
ADVANCED REPORTING
We realize that there are so many different kinds of reports that a church could need so we designed a reporting module with maximum flexibility. With views, you can pull up many different selections of people. For example, you could view all visitors within a date range or members missing the past three weeks of church. Of course you can create your own views, or we could create those for you.
SURVEY
This feature helps to collect form data and allows you to pull out reports from the data collected. It comes with a form builder for designing forms for data collection. This is a smart way to run a survey,
Are you excited about ekklesiasys?

Get an account now by subscribing to one of our packages Choose an account that best suits your church, Department or Ministry.


Customize your Church / Ministry Mobile App
~ the way you want it love it dream it , we are here to make that happen for you ~

To enable your church members to interact and engage better with your church and this system, we also have a fully functional mobile app
(Available on Android, IOS & Windows platforms) designed for your congregation to receive information 1st from the church
such as Devotionals, Programme Updates, Announcements, Promotions and so on. Your congregation can also communicate with the Church via Prayer Requests, Testimonies, Comments & Suggestions and so on.

Additionally, members can securely connect to their personal data managed by the church and can update right from their mobile devices. All you have to do is sign up to any of our sweet packages.
Activate your mobile module and get your church app in the app stores within 1 to 2weeks and all at an awesomely affordable price.